Photo booth & Sequin Shimmer Backdrop.
With so many things to think about on your big day we know that photo booth hire is not your top priority but believe me you will regret not having one at your wedding.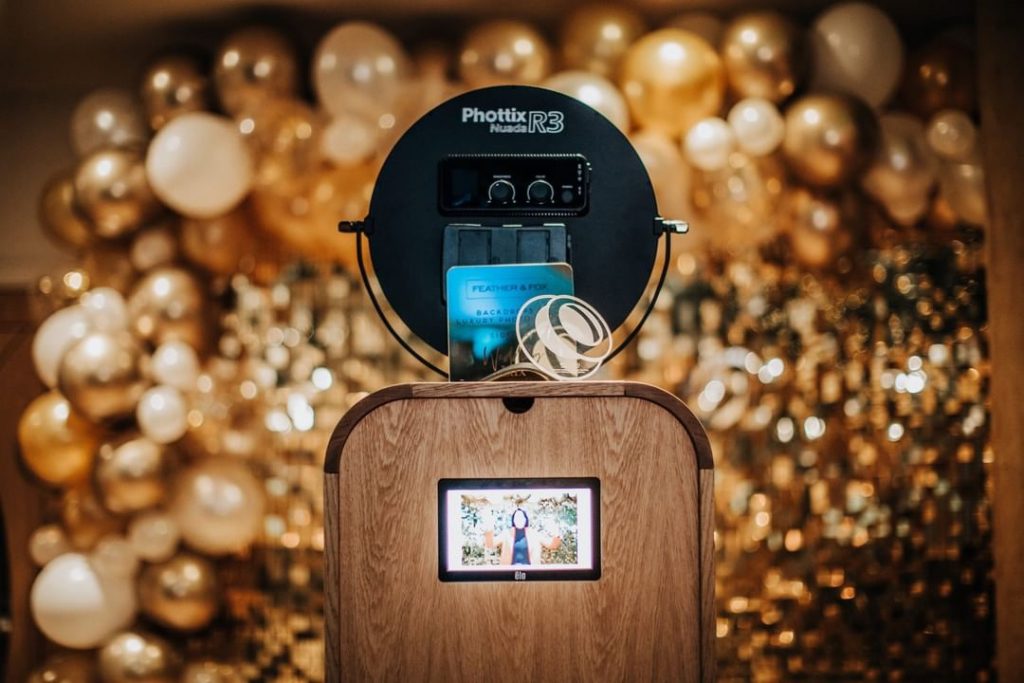 If your like most couples planning a wedding you put your life and soul into it, so its only fair that you have lots of photos and fun gifs of you and your guests having the best time. Lots of couples may think……why do I need a photo booth if were having a professional photographer? it a good questions but its simple, you'll get the most amazing photos from your pro photographer but our photo booth gives you something totally different, you'll get a library of fun, drunken crazy photos of your guests totally letting there hair down and misbehaving. We've had lots of couples tell us that some of their favourite photos have come from our luxury photobooth.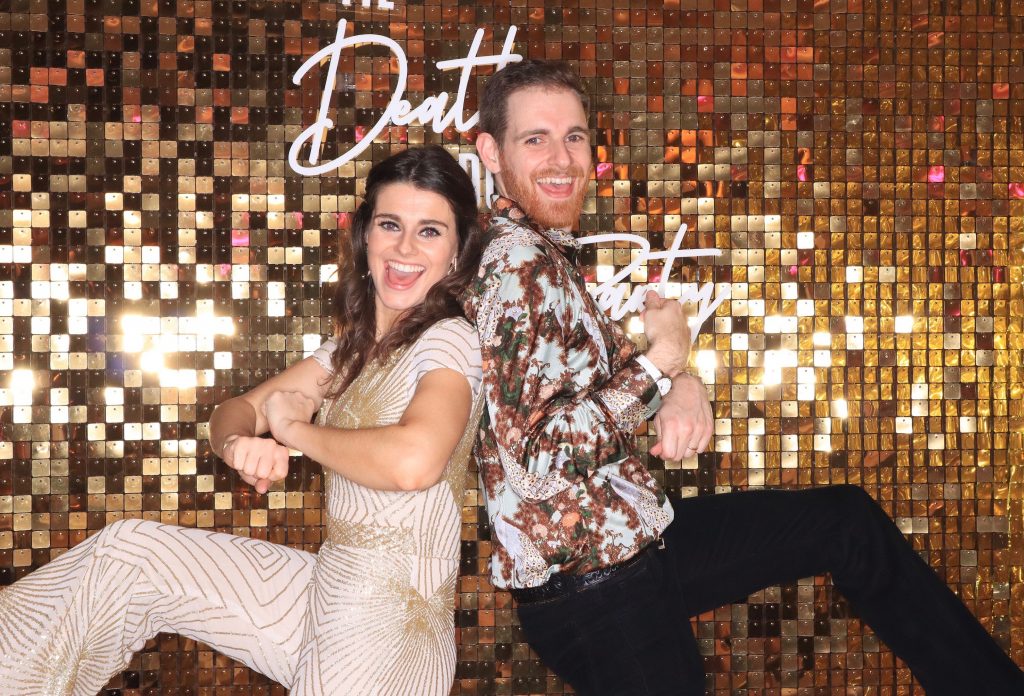 Our Luxury photo booth is jam packed full of features and you can totally customise the package to suit your day.
Capture your memories with our Luxury open air, wireless photo booth, its the worlds most luxurious booth inspired by retro lines and English craftsman. The handmade oak retro styled booth is sleek, stylish and unique. If you've been considering a photo booth for your event, but have been uninspired by the options out there, then our retro booth is the super stylish alternative you've been looking for!
Unlike the temporary passport-photo-style boxes or pop-up vintage options, this traditionally crafted wooden booth is a modern reincarnation of the Victorian camera-box of old – and it's BEAUTIFUL! 
Hidden inside is the latest software on the market plus its mirrorless camera technology produces the highest quality photos and gifs for your guests to treasure forever. Our beautiful, vintage photo booths are handcrafted and add a level of class to every kind of event. The text & email service, luxury props, ensure one thing, you guests will have the best time.
Heres whats included in our package.
CHOOSE HOW MANY HOURS HIRE
Unlimited use for your guests.
BOOTH ATTENDANT
Our Foxes make sure your party is one to remember.
STRIKE A POSE
Don't guess what you look like, see yourself in real-time.
BEAUTIFUL BACKDROPS
Our backdrops are vibrant and look great we have 10 to choose from, or upgrade to our sequin shimmer backdrop with full customisation service. Our sequin walls come in 3 colours and you can add balloon arches and bespoke signage.
STUDIO LIGHTING
Bad lighting ruins photos. Our lighting is studio quality and makes you look incredible.
GALLERY
Secure online photo gallery for you and your guests.
HI RES IMAGES
You can choose to have your photos in colour or black & white plus the following day we make all the images from every event available in hi-res within 24 hours.
PICS & GIFS
Your pictures and gifs are sent directly to your guests phones giving them high quality images and gifs to upload to social media or privately share with friends, we can also design you a photo frame with your names and date you got hitched our options are endless so just tell us what you want and we can do it. We also have a photo print service where your pictures print in 10 seconds. We love love love the text service its awesome and your guests are guaranteed to love it too its fast and you never get a lost or damaged photo, it makes it easy to share images for free and you get a high quality image that you can print out in any size at a later date, if you choose the text service your guests can also send fun gifs direct to their mobiles.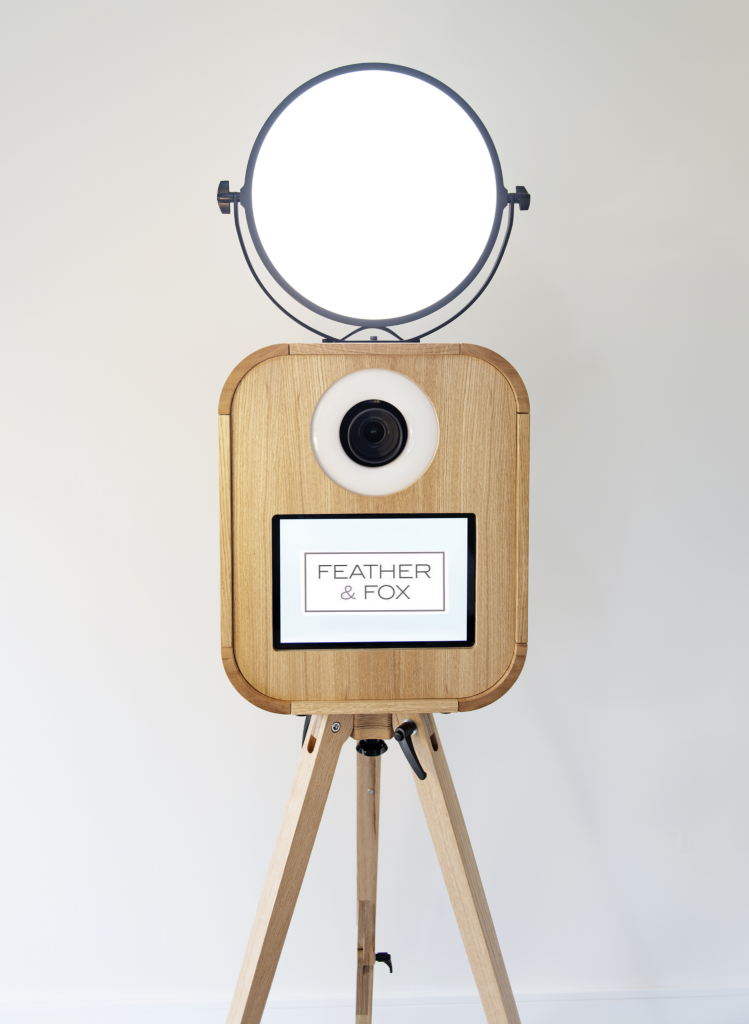 NO PHOTO BOOTH PACKAGE IS COMPLETE WITHOUT PROPS.
We have a huge collection of props to suit every wedding theme, over the years we've done Ibiza theme, Studio 54 theme, Snowboarding theme, Vegas them, every wedding is unique and we have the props to match.
We love what we do and we love having fun, our luxury photo booth with customisation service is a guaranteed fun magnet giving you and your guests hours of fun and laughter with picture evidence of all the naughtiness. No wedding is to big or to small and we also cover a huge area so get in-touch tell us all about your big day.